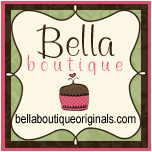 I wanted to take the opportunity to introduce you all to a great new boutique that has just opened.....
Bella Boutique Originals
Not only does this boutique have the most adorable little gifts for things like baby and wedding showers, it is owned by someone very special......
........My sister!!
She makes some really cute and unique things for babies and brides to be. She is also has a line of hostess gifts...... you know when you are invited into someone's home and you want to take a little something, but just don't know what to buy.
I "borrowed" a few of her photos that are on her new website to give you a little seak preview!!
"Baby Cake"
For $25 you get a little cake that is made up of 3 blankets, 5 washcloths, baby booties, bib, and a special treat for Mommy inside!
"A Cupcake Assortment"
An Assortment of burpcloths, baby booties, and washcloths for $18
"For the Hostess With the Mostest"
A teatowel cupcake for $5.50
So, if you are in the market for some unique and totally adorable gifts, please stop by and check out her
online boutique
.
Today I have participated in my friend Colleen's Friday's Find! Click
HERE
to go to her blog and see more fabulous finds! If you have a "find" of your own, post it and link back to her!
Have a wonderful weekend!